Would You Believe? Unlimited Singles Looking For You!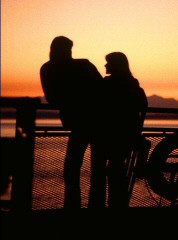 I have some good news and some bad news. Which would you like first? Oh, the good news? I thought so! Christian dating in the 21st century offers fantastic opportunities and advantages that past generations of lonely hearts couldn't have imagined; namely Christian singles websites where you can meet thousands of like-minded brothers and sisters for any relationship from pen pals, new friends, or a matchmaking opportunity, and all from the comfort of your computer corner. And yes, you can meet new people,  wearing your jammies. Is this progress or what?!!
Online dating is especially welcoming to shy people because you don't have to deal with awkward face to face meetings, as you would in a Christian singles brick and mortar club. You can visit and learn all about a new person for weeks online, exchanging photos and life histories until you feel comfortable enough with your friend to meet. If you have retreated into your shell it takes longer to allow courage and hope to work their magic.
Formerly, singles were limited to meeting potential mates in their immediate area. Churches offered help with their singles classes and group trips and activities but the internet will introduce you to multitudes of singles who are looking for someone special to love, so the chance of finding a perfect match is greatly enhanced, and along the way, you'll also develop new friendships if there is no "love connection", and your circle of friends will grow.
Singles in small towns and remote areas will be on a level playing field with city dwellers, able to meet unlimited new friends who may be feeling lonely too.
A note to Seniors: I'm so encouraged that many seniors are taking this opportunity to meet new online friends, prayer partners, pen pals and potential mates. If you don't have a computer of your own, it doesn't exclude you from meeting someone on the web. You may have a friend or family member who can get you started on their computer, and get an email address for you. After you have met someone and feel comfortable enough, you can share phone numbers and continue to get acquainted by phone and eventually meet.
Some seniors just buy a small keyboard, plug it into the TV and into the telephone jack and their TV becomes their monitor or screen upon which the internet unfolds in all it's glory and potential to bring new friends into their lives. If you are interested in this, the monthly fee is about $20. Many seniors have access to computers in senior centers or their club house and another place to access the internet is at your local library. You could call to see if they can supply an email address for you, as some libraries do not. Also ask if you will need to make an appointment ahead of time.
Just a note for Christian singles who may be lonely or depressed. There is an old adage: "To have friends, you must first be a friend." This doesn't mean that you are unfriendly! It means that if you wish to end your loneliness and make friends you must take the initiative. Reach out your hand of friendship to others. By doing so the dark clouds of loneliness and depression will burn off in the warmth of friendship's light. Here at CherishMates we hope that you will join our Christian dating program. It's free to join. You may meet only those you wish to. Perhaps you only want a prayer partner or pen pal, that's great! You're moving in the right direction. If you wish for deeper relationships that's entirely up to you. You will not be rushed. Why not get started today and blow away those clouds of loneliness and depression?
 A lonely Child's Scheme To Find Friends
Please indulge me in sharing this true story of  my lonely early years. Loneliness is not a stranger to young children. I can still remember a deep longing to have a little girlfriend to play with when I was 3 or 4 years old. We lived in the country, too far to visit neighbors on my own, though a girl lived only half a mile away. I was the baby in a family of six and my mother spent a lot of time rocking me, singing old hymns and reciting poetry, but I longed for a girl my age and even had dreams at night of finally meeting one.
My brother Jimmy, already in first grade, would practice reading aloud to me, and he said the first thing he had to learn  was how to read. Suddenly a light went on in my head; I hatched a plan to go to school early, where I knew there were plenty of little girls. I thought all I had to do was prove I could read and the principal would have to accept me. So I prodded Jimmy to read the first page over and over again until I'd memorized it. It went something like this: See Dick run. Run, Dick, run. See Spot jump. Jump, Spot, Jump."(admittedly, the story didn't have much of a plot, but it was easy to memorize!.) Flushed with excitement, I announced that I could go to school now because I knew how to read! Mom listened while I held the book and repeated the words I knew so well but she wasn't convinced I could read because she pointed out that I was holding the book upside down!
Finally the magical day arrived, the first day of school. Although I was shy (and missed my mother) I embraced the experience and played with a whole gaggle of girls, and even a few snotty boys. It was heavenly!
I describe this type of loneliness as "situational" because it is easily remedied by a change in one's life. Some of you may have this type, perhaps you've lost a loved one or are tired of the single life. But,Christian singles, search your heart for other emotional problems such as depression because they tend to hide themselves, and they must be dealt with or you can carry negative feelings and fears into a new relationship.