Solitude vs. Loneliness
Two Very Different Reactions to Being Alone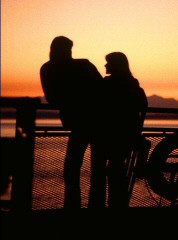 Let's move on now to solitude and how it differs from loneliness, Christian singles. Both are the result of being alone, or rather, both are a reaction to the state of being alone. It has been said that language has created the word loneliness to express the pain of being alone, and the word solitude to express the glory of being alone. However, solitude is a welcome choice, a chance to rest and nourish the soul whereas loneliness carries so many destructive emotions that we want to escape it. Vincent Van Gogh painted a touching picture of being alone; "One may have a blazing hearth in one's soul, yet no one ever comes to sit by it"
On the other hand, solitude has it's benefits. Aloneness forces you to evaluate your life, your aspirations, beliefs, and attitudes. You've heard the saying, it's good to lay fallow for awhile. That which does not kill me, strengthens me. The following poem, author unknown, is reminiscent of Biblical wisdom gained and born out of suffering:
I walked a mile with Pleasure
She chattered all the way
And left me none the wiser
For all she had to say.
I walked a mile with Sorrow
And ne're a word said she
But, oh, the things I learned from her
When Sorrow walked with me.
Creative people need more solitude than others, because they need to hone their craft, envision a new creation, and concentrate to bring to fruition what they see in their mind's eye. Lou Dorfsman opined, "Creativity is essentially a lonely art, an even lonelier struggle; to some a blessing, to others a curse. It is, in reality, the ability to reach inside yourself and drag forth from your very soul an idea."
You've probably read the poem "One Solitary Life" telling how our Savior's life, in relative obscurity, changed the world, with His message of love and forgiveness. He taught men to respect and honor women and to value all life. In fact, the early believers took to heart the teaching that in Heaven there is neither male nor female, slave nor free person but all are one in Christ, thereby elevating female believers who worked side by side with men, bringing souls to Christ.You may have heard about the practice of Roman parents who left their unwanted newborn babies in the garbage outside the city to die. At night, the early Christians would come and bring the cast off babies home to raise as their own because they knew how Jesus loved little children. This was at great cost to them as they too, were outcasts, marginalized and hunted by the powerful Romans.
Jesus also had to find quiet time with His Father, so He escaped the massive crowds to spend time in prayer, talking with His Father. Many find quiet time to spend with God in the early morning hours and it sustains them through their day. I hope you will take time appreciating solitude and refresh your souls alone with God, Christian singles. I'm sure you are familiar with one of the old songs of the faith: "I come to the garden alone, while the dew is still on the roses". Yes, wherever we meet with the Lord, we find renewal in our spirits. He cares about you, dear brother and sister, and He will never leave you or forsake you. Happier days are coming for you, so full of joy, the former days will nearly be forgotten. Take heart.